Back in January 1976, Renaissance's gig at Friars Aylesbury, supported by Gryphon, was the best show I had ever seen.
I vividly remember leaning against the balcony rail with my eyes closed during the Rickenbacker bass solo near the end of the 20-something minute encore "Ashes are Burning." When I opened my eyes for the climax, a mirror ball was flinging shards of light around the hall. Sound and vision conspired to create a magical mood.
The band were gathering fans quickly at that stage and Purple Pyramid Records have recently released two 1970s gigs that show the journey to their classic Live at Carnegie Hall album, recorded in 1975.
The band
There is a direct link from the Yardbirds, which had Jimmy Page, Jeff Beck and Eric Clapton in their ranks, to this entirely different band, where the guitarist never played electric lead and usually performed sitting down.
In July 1968, with Beck fired and Jimmy Page as guitarist, the Yardbirds were about to split. Leaving Page to continue with The New Yardbirds (which, of course, became Led Zeppelin) singer Keith Relf and drummer Jim McCarty wanted something "a bit more poetic… more folky" and formed Renaissance.
By 1973, they had got through 22 members, and not one of this classic line-up had been in the original band. But such was the power of their performances and the strength of their material, this line-up lasted for several albums and was never bettered.
Annie Haslam, with her pure, five-octave range, is the sound of Renaissance. It is not just the scope of her voice, but she uses it so well. When she hits the stratospheric, climactic note to the Scheherezade suite, she not only seems to reach it with ease, but holds it in the same way. Many singers attempting this would make you wince as they struggle, but Haslam is astoundingly capable.
Haslam's front-of-stage partner is bassist Jon Camp, whose approach to playing his Rickenbacker makes comparisons to Chris Squire inevitable. He is all over the neck like a vampire, and often his runs are more like lead infils than part of the rhythm section. With no electric lead guitar, and most vocals high up, there is a cavernous space in the middle of the sound for him to fill, and he does this superbly, helped well by his harmony vocals. It is also his interplay with energetic drummer Terence Sullivan that gives the band such a vibrant energy.
Keyboard player John Tout may lack the stage presence of your Rick Wakemans, but his playing is a key part of Renaissance's instrumental sections. He prefers piano with a light dusting of organ and string synthesizer, and his is the accessible classical-jazz influence.
Acoustic guitarist Michael Dunford is equally retiring, but as he composes the bulk of the material with non-playing lyricist Betty Thatcher, his part is crucial.
De Lane Lea Studios 1973
This set shows how well-formed this line-up of the band was from the beginning. Of the seven tracks, four were to be indispensable works throughout the decade.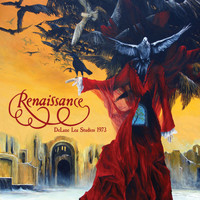 The opener, "Can You Understand" contains all their vital elements: soaring vocals; classical keyboards; a bass played like a lead instrument, drawing everything together; and tunes – lots of great tunes. This ten-minute piece has several themes (perhaps one of the main things that drew the Yes and ELP crowd). So melodic are their songs that listeners even find themselves singing along with the bass and keyboard instrumental lines.
Other classic tunes are the beautiful, brisk and brief "Carpet of the Sun," driven more by acoustic guitar; "Prologue" – a jazzy piano instrumental, which is the only piece to predate most members; and a young, compact (11 minute) form of "Ashes are Burning."
This set was performed for friends and industry colleagues in De Lane Lea studios (listed on the liner credits of many a great album, such as Deep Purple's In Rock). For "Ashes are Burning," Al Stewart adds backing vocals and label-mate Wishbone Ash's Andy Powell joins the band for a rare electric lead solo.
The three songs that eventually got left behind are still strong and might be standouts in the set lists of some artists. "Let it Grow" and "Sounds of the Sea" are both fairly short pieces, the latter marked out by Haslam's voice sliding up and down on the last note of the chorus. Bookended by a solo classical piano introduction (Debussy's 'La Cathedrale Engloutie') and a reflective postlude, "At the Harbour" is a song about women gathered after as storm, anxiously awaiting their men.
There is very little to keep this from full marks. A three-second electronic noise in "Ashes are Burning" could surely have been cleaned up before release and a few of the harmonies in that piece are suspect. There are other versions of some of these tracks available with longer or even stronger tracklists. But other than these small gripes, this is a superb release that captures an exceptional band just as it is taking off.
Academy of Music 1974
A year on from their De Lane Lea studio set, Renaissance had grown in both confidence and their identity as they marched towards their career-best, Live at Carnegie Hall.
So if this is inferior, why would anyone be interested in it, either instead of or as well as the Carnegie set? With tracks like the magnificent opener "Can You Understand" and the beautifully compact "Carpet of the Sun" already fully formed – and with orchestral backing on both albums – that is a fair question.
This set, in front of a wildly enthusiastic New York audience, happened after the release "a couple of days ago, I hope" of Turn of the Cards and the whole of that album appears here, interweaved between the classics. Turn of the Cards was arguably their studio best and on a rare live outing here is the magnificent "Black Flame," a piece that features harpsichord and which would deserve a regular starting place in most bands' set lists. There simply was not enough time to keep it in the show after the next album Scheherazade, with its 20-minute title track and gorgeous "Ocean Gypsy."
This also means a place for "Cold is Being," a straight play of Albinoni's famous adagio, but with a set of lyrics. It can come across as somewhat dour, being probably their only song to be sung over a classical organ.
This release marks the live introduction of energetic band classic "Things I Don't Understand."
Unfortunately, some of these tracks may also be the reason that this set has not been previously released. "Things I Don't Understand" suffers from some dodgy harmonies – you can imagine the singers gesticulating for more fold-back to hear each other better. And there is about 25 seconds of some strange 'caught' voices early in "Black Flame." Maybe it is a roadie being picked up by the drum mics, but the sounds, though clearly present, are too quiet to make out what is being said.
By contrast, this is also when the live staple "Running Hard" made its appearance. Again, its own main melody is very singable and stays in the mind. As the song develops, it builds towards a slightly restrained, but almost ecstatic climax, pinned in place by a ten-note call and response riff between parts of the orchestra.
The second disc sees the introduction of yet another constant favourite "Mother Russia,." which sits alongside two other essential pieces. The classically-tinged jazz of "Prologue" appears at what seems like the wrong end of the show; and, eventually an encore, "Ashes Are Burning" (as the 1973 disc) features  Andy Powell in a couple of solos. (Renaissance keys player John Tout repaid the debt by providing the organ on Wishbone's "Throw Down the Sword," making bits of "Ashes Are Burning" sound like rediscovered Argus outtakes.)
There is some endearing banter between tracks, "Deary me, you are going to have a good time I can tell. You're bopping around like a good lot!" exclaims bassist Jon Camp early on; and vocalist Annie Haslam – on terrific singing form – often lets out her comical titter.
But it is those tracks that matter. The only possible clunker is an Albinoni classic, so the set list could hardly be any better. There is barely even paper-thin padding here. Marred only by some occasional sound issues (pitching, feedback and intrusive talk), this release captured another step forward in Renaissance's journey to live excellence. Yes, Carnegie Hall was one step beyond, but this gives an ear to fresh tracks from one of their best studio albums and catches Andy Powell on stage with them.
 Live at Carnegie Hall.
Live at Carnegie Hall, recorded just prior to the release of their fourth studio album, Scheherezade and Other Stories, showcases all the strengths of the band.
This 2-CD set includes the full version of "Can You Understand" and also the astounding 24-minute encore "Ashes Are Burning". The songs played here could not be beaten by any other setlist. "Prologue" does what it says, giving a jazzy instrumental intro (with a touch of Bach) that builds excitement for Haslam's appearance. The sadly-haunting "Ocean Gypsy" and poppier "Carpet of the Sun" are beautiful ballads. "Can You Understand" is long enough to run free with solos, while "Running Hard" combines their melodic side with rock, and both feature the orchestra well. "Mother Russia" is a minor-chord major work about Russian Christian dissident writer Alexander Solzenitsyn's angst for the homeland that was mistreating him.
Again, despite the near two hours of music, there is virtually nothing superfluous; even the bass solo in "Ashes are Burning" has the crowd clapping and incorporates two separate themes that integrate with the music either side.
A slightly reduced version of the New York Philharmonic Orchestra adds to the sonic depth on these shows.
It is hard to find faults, and there are very few in the music – just a bum note at the end of "Ashes." However, don't get too excited about the "Deluxe Anniversary Edition" – there are just a few notes from Haslam on the back of the liner, and any bonus tracks are only extra to any shorter versions previously released.
But with music of this quality, just having it available is good enough. Any presentational extras are just that. The band is unique. This line-up with this tracklist is as good as they ever got, and the orchestra and setting simply spark their best into a brighter flame. This highly recommended release could be an essential component of anyone's collection, if they enjoy music that includes symphonic prog, classical rock, folk-rock or even piano-based jazz.
POSTSCRIPT : Since this piece was posted, a new strong contender for second-best collection (after Carnegie Hall) has been released. White again, the main programme has few vocal wobbles, Renaissance Live at the BBC, Sight & Sound features a DVD/CD of a 1977 performance, but adds a 1976 radio set, and – crucially – an excellent disc that contains both a 1975 set and a 3-track 1978 session that goes beyond the music available for Carnegie Hall. Full review here: http://www.tollbooth.org/index.php/current-issue/music-reviews/2106-renaissance-live-at-the-bbc-sight-sound
Annie Haslam at Friars Aylesbury, January 1976 (Geoff Tyrell)