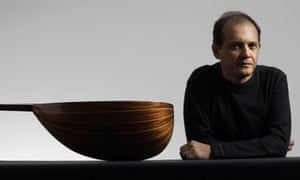 (ECM)
There is something tantalising about Tunisian oud master Anouar Brahem's restraint. The tentative playing on his previous release – the excellent double disc Souvenance – seemed to reflect the political uncertainty of his Tunisian homeland in the wake of the Arab spring.
Souvenance was on constant play for weeks in our home and this follow-up – released to celebrate Brahem's 60th birthday – is similarly addictive.
But the two are quite different creations. Souvenance was orchestrally-enhanced and delicate. When I first heard it, my reaction was, "Is that it?!" I felt that it was too insubstantial to be of any interest, but the very nuanced playing that at first seemed too lightweight is what drew me in.
Blue Maqams also begins in a tentative way, but it has a different purpose.
Here, Brahem has given his regular colleagues a holiday and plays with jazz royalty: bassist Dave Holland and drummer Jack DeJohnette were in Miles Davis's band together and have frequently collaborated over decades. Holland also worked with Brahem 20 years ago, so the two have an understanding. The younger British pianist Django Bates, however, was a huge risk. He has been a member of Bill Bruford's Earthworks and played with Michael Brecker, David Sanborn and Kate Rusby, but he has not worked previously with Brahem, Holland or DeJohnette.
But how will Brahem's Arabic modal music mesh with these jazz masters? Will one drown out the other; will the project fall between two stools, or will they meet in the middle?
Brahem's oud has such a fine, exotic and resonant tone that it can take the role of either acoustic or electric guitar. Often, as in first piece "Opening day" and the title track, it starts a piece off or takes a solo role in between jazzier sections – or both – so the two forms sit by side. In the latter,  after one of these more ambient sections, drums switch on jazz mode instantly for the closing section, and it is gorgeous.
Given that there is an element of improvisation, occasionally it takes time to produce the melodic direction. The first half of "La Nuit" is somewhat exploratory and shortest track "La Passente" never really ignites, but smoulders gently throughout.
Elsewhere, the music certainly takes off. Among the several standout sections is "Bahia," the one track Bates sits out on. Again it begins with Brahem sketching out the ideas on the oud, sometimes gently 'la-la'ing along in the background. Suddenly, he puts some emphasis on the big riff. Holland's bass comes in, soloing over it and then they swap, Brahem's oud improvising over a solid rhythm section that keeps the line going. It's a simple pattern, the type that breeds swirling dances in the Balkans or around the Mediterranean, and one that's hard to forget.
The wonderful "Persepolis' Mirage" has a consistent groove that gives it a bolero feel, but with a strong melody played against that insistent rhythm. Such a combination is bread and butter for these jazz players, and they eat with relish – as they do with the lighter "Bom Dia Rio," a sunny and highly enjoyable jazz work out.
When "The Recovered Road to Al-Sham" finds its own groove late on, it sets Bates off with some beautiful, flowing piano – further evidence, if any needed, that the  gamble of taking him on may have been high risk, but it has paid huge dividends.
With "Unexpected Outcome" they close these 77 minutes as a relaxed, fluid, fully-functioning foursome.
This album excels in interplay, sensitivity and lightness of touch, and works on several levels. Its jazzy, exotic mood is unobtrusive and enjoyable as background, but start to go deeper and there is so much to explore in this musical meeting of worlds. And the clarity you get through headphones takes it up yet another level. This band has to record together again!
If you love nuanced jazz with world flavours, this really is a must.