Regular readers will have noticed my love of music from the prestigious, award-winning ECM label – which is essentially one man's high quality, long-term project.
For 50 years, German bassist Manfred Eicher has been recording over one thousand jazz and classical albums with a pristine sound quality. He has struck up an excellent trusting relationship with Arvo Pärt, arguably the world's leading living classical composer, and cross-fertilised many of the world's best jazz musicians, such as Keith Jarrett, Jan Garbarek, Chick Corea and Pat Metheny.
To celebrate this half-century, ECM have re-issued 50 classic albums. Deciding which to review has involved pleasurable hours of research, but the album that most grabbed me (twice) and led to ecstatic rambles through his live works on YouTube was Eberhard Weber's The Following Morning.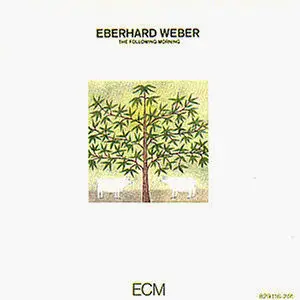 Weber plays a resonant fretless, upright electric bass and does so in a distinctive style with real lyrical flair. This album consists of only four tracks averaging ten minutes each, which means that they have time to naturally go where they need to.
Rich as it is in tone, there are no drums here, which helps to create a fluid, atmospheric beauty in this music. The sound is hard to capture in words, as it is unlike anything else I know. A warmer, more relaxed, instrumental version of Talk Talk's Spirit of Eden might come close. While Weber is generally much more fluent and accessible than the Talk Talk work, he does have the fragmented album closer "Moana II," where (aided by an occasional unaccredited synth) he tantalisingly teases an earlier theme (from surprise, surprise, "Moana I") which he then spells out right at the end.
Weber's main colleague here is pianist Rainer Brüninghaus, with whom he played in saxophonist Jan Garbarek's band, but while the bass and piano do trade licks, this rarely feels like a standard jazz album with piano taking the traditional jazz role. Weber treats his bass like a lead guitar, double- (or triple-) tracking where necessary to play more normal bass lines against it. He leaves a lot of space around it, which the piano isn't obliged to fill.
Instead, many of the spaces are occupied quietly by the soft celli, French horns and oboe of the Philharmonic Orchestra, Oslo. So at times – such as in the title track – it can feel like a version of Miles Davis' Sketches of Spain, but with bass taking the place of trumpet.
The blend is gorgeous – as is that title track, with a melody line that will stay with you long after the piece is finished.
Touchstones is a music lover's playground and likely to provide new excitement for anyone interested in jazz. A runner up for review album from this series was John Abercrombie's delicious Night, featuring an all-star cast with Jan Hammer, Jack DeJohnette and Mike Brecker. On Hammer's "Ethereggae," they manage to combine jazz, rock and reggae in one gloriously original – and successful – eight minute piece.
The Triangle, a more conventional piano trio consisting of bandleader bassist Arild Andersen, pianist Vassilis Tsabropoulos and drummer John Marshall, comprises nine largely languid tracks that have a healthy balance of improvisation and distinctive themes.
Tsabropoulos, who has a classical background, has written most tracks and arranged a beautifully wistful version of Ravel's "Pavane," in which Arildsen's double bass plays sensitively off him. It may be this background that adds some precision to the pianist's style and form to his composition, but his classical history never dilutes the freedom of his playing.
"Simple Thoughts" is a contemplative piano-based piece, beautiful and serene, a mood continued by its successor, "Prism."
For all the disc's gentleness, there is a brief upbeat burst with "Lines," which has a touch of the Keith Jarretts to the piano, but nothing at all messy or angular.
The nearest this 2003 album gets to that is the group composition "European Triangle," which starts with a prowling piano left hand and develops into a more skittering piece. By contrast, it's followed up by the very dreamy "Cinderella Song."
The three players balance well; while the composers generally feature more fully in their own pieces, Andersen refuses to hog the centre and this is a true team effort.
Another piano-based work is Red Lanta, a 51-minute duet from Art Lande and Jan Garbarek. As you might expect, once you spot that the title is an anagram of Lande's name, the pianist composed each track and piano takes the brunt of the workload here, with Jan Garbarek largely filling in and echoing for emphasis.
Garbarek is undoubtedly one of the label's most popular artists – not least due to his Officium collaboration with the Hilliard Ensemble, blending his sax with their choral work, which was one of ECM's best-selling albums ever. He features on half a dozen albums across the Touchstones collection.
While he is mainly known for his saxophone work, on this release he unusually spends more time playing flute – although to these ears, some of the best tracks across the album are those where he does pick up the saxes (soprano and bass) such as "Velvet," with its call-and-response lines, and "Meanwhile."
When he plays flute, there is an almost classical tone to some tracks, including the opener in 5/4 time "Quintennaissance" and "Waltz for A," one of several where flute hints at a bird-call at times. It is only the freer, more improvised mood that takes it in a jazzier direction.
Towards the end, Lande takes a solo piano medley that nicely simplifies the sound before Garbarek returns on saxes and expresses tones verging on the oriental, before taking the lead in the final piece, the lyrical "Cherifen Dream of Renate."
The drum-free disc, recorded in 1973, moves between sprightly and sauntering pace, but by and large feels casually relaxed. It catches Garbarek at a point where he has turned his back on earlier, more dissonant, projects in favour of this more mellow approach.
Also worth investigating is Juni by the Peter Erskine Trio. It is part of a set I reviewed here
While The Following Morning is superb, other ECM releases beat several of the Touchstones. Albums like Anouar Brahem's minimalist Souvenance and rounded Blue Maqams are just two of his works that deserve wide recognition. Investigating the label's hugely impressive catalogue can be a fascinating and fun occupation.